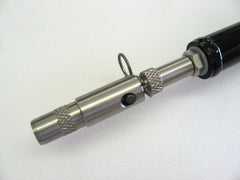 Bang Stick with Power Head (Spring Type)
This is the SAFEST most RELIABLE Powerhead on the market today. It features a Screw on barrel with a dual safety; screw lock and/or hairpin. Another key feature is the SPRING ACTION CHAMBER. It is SAFE TO OPERATE and allows you to push the Alligator below the water surface WITHOUT compressing the bullet against the firing pin. O-Ring type Bangsticks don't have this feature which could cause a misfire. OUR BANGSTICKS WILL FLOAT! All of our power heads are machined from 303 stainless steel; mounted to our 6' aluminum pole. Powder coated with a durable finish, and come equipped with reflector tape and a stainless steel rope ring. 
Available for .223 Cal., .357/.38 Cal., .44 Magnum.  Please specify when ordering.