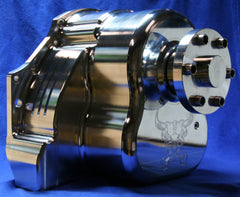 Ox Box
Ratios available: 2.09, 2.38, 2.55, 2.68, 2.88
Our standard boxes include:
*Two (2) year limited warranty...best warranty in the industry!
*2 quarts of Lucas 75-140 synthetic oil
*All stainless steel bolts and mounting hardware
*Clutch compatibility...unique in the industry!
and are made with:
*6061 domestic aluminum billet housing with high shine finish
*Class 14 O.D. ground, polished gears with integrated shaft...leading the
industry!
*48 oz. oil capacity...largest of any box on the market
*Multiple mounting options for easy replacement of most major brand boxes
****Made in the USA with domestic materials****