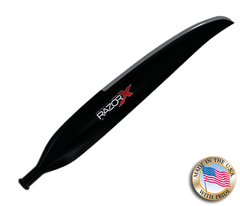 Razor X Blade by WhirlWind
The Razor blade by WhirlWind is designed as a direct replacement blade for Warp Drive style hubs. This blade will fit directly into any Warp Drive hub configuration from a 2-blade 66″ diameter up to 10 blade 90″ diameter.
The Razor blade incorporates Whirl Wind's Whisper Tip™ technology with its highly tapered profile and an aggressive swept-tip that offers superior performance just like the wings on a fighter jet. This design decreases the propellers drag and noise, thus creating more thrust, and better fuel economy. The Razor offers more blade area in comparison to the original Warp Drive style blade, offering improved low-end thrust performance in a lighter-weight blade for no compromise in snap.
All WhirlWind blades are equipped with a long electroformed nickel leading edge that wraps around the tip end of the blade. Although nickel is much more expensive than other materials, WhirlWind uses Electro-formed Nickel because it is the toughest material available for leading edge protection. The blades are constructed with advanced thermo set aerospace graphite composite materials.
100% of WhirlWind airboat propellers are manufactured in-house. This ensures top quality parts, on-time delivery and quick product development.
Product details
WhirlWind's Razor blades are designed to be a direct replacement blade for Warp Drive style hubs. The Razors come in a standard length of 33″ and can be trimmed to 31.5″.
Specifications
| | |
| --- | --- |
| Width: | 4.75″ |
| Length: | Razor 72 Length: 33″ (can be trimmed up to 1.5″) Rotation: Left or Right-handRazor 68 Length: 31″ (can be trimmed up to 1.5″) Rotation: Left-hand only |
Max RPM
Standard Features
Electro-formed Nickel Leading Edge for Maximum Protection
Carbon Composite Construction
Light-Weight Skin Stressed Monocoque Blade
X-CORE Technologies
Mini X-CORE