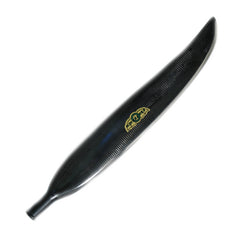 Saber Blade
The new Sensenich "Saber" will fit into any Warp Drive hub configuration. This new prop features 20 percent more blade area for increased low end thrust without loss of snap. The scimitar blade shape helps to reduce noise signature.
Sensenich has incorporated an optimized composite lay-up to minimize "flattening out" under high thrust loading. This propeller runs extremely smooth due to the composite hollow construction featuring their "I-Beam" advanced manufacturing process.
This blade will fit directly into your current Warp Drive hub or you can purchase hub parts and complete propellers from us.
Complete Propellers are available from 5 blade 66" diameter up to 10 blade 90" diameter.
Specs:
Propeller Series

Material

Engine Type

Direct Drive & Reduction Units

Horsepower

Available Rotation
Special Features:
Left Hand & Right Hand Rotation
I-Beam Advanced Manufacturing Process
4-1/2 Inch Blade Width
3000 Maximum RPM
66" to 90" Diameter